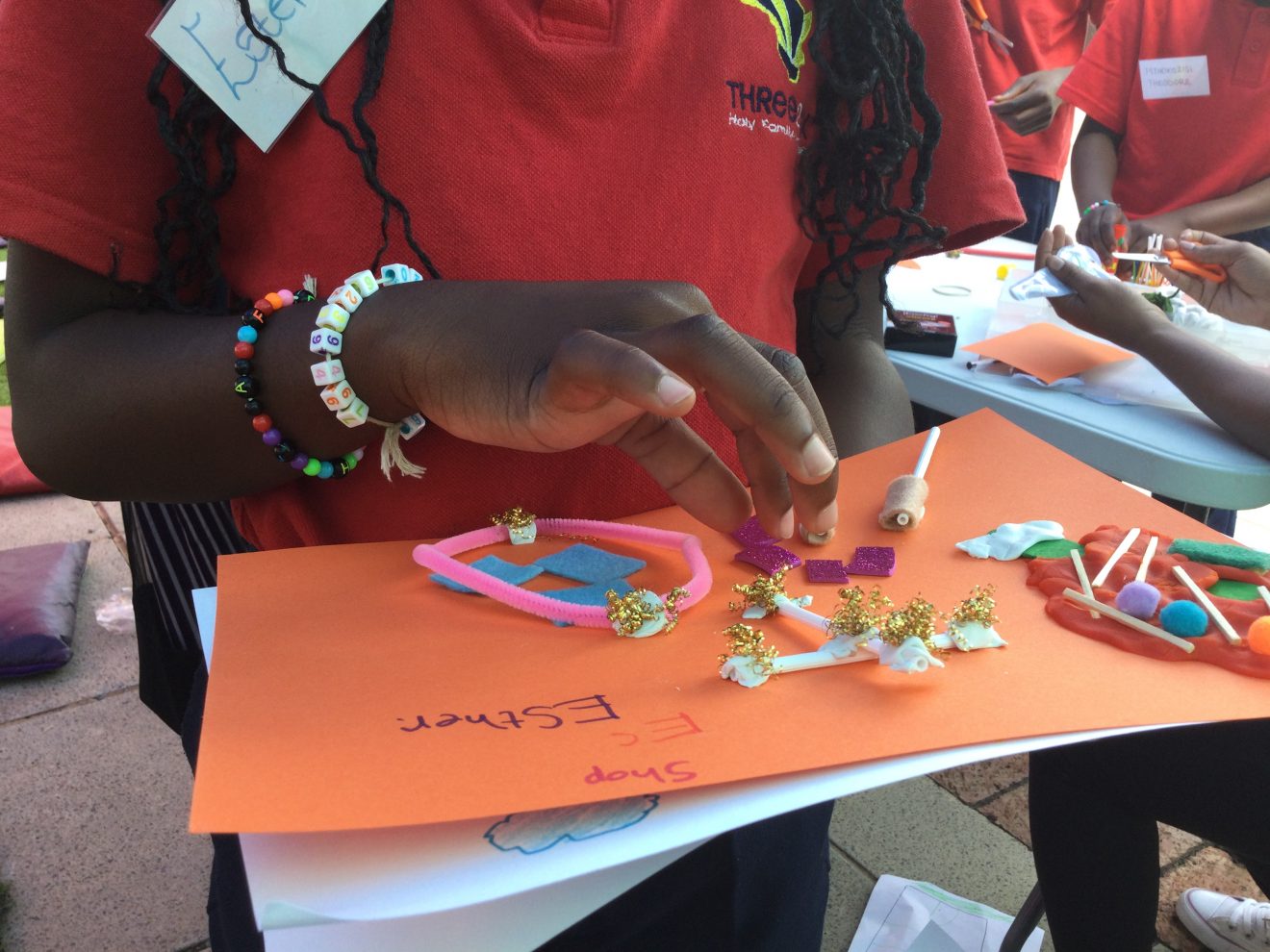 February 2022 newsletter
"Believe in yourself everyday" - Caroline, 10 years old
February is known as the month of love.
A few activities and events were organised for the children for the occasion. On the 11th, the learners attended a Mass with Father Mokesh who talked about charity, love for their families, and love for Christ.

On Valentine's Day, our learners wore home clothes and made St Valentine's cards.
On the same day, the volunteers hosted a talent show for the children of our Sacred Heart College campus.
The learners showcased their skills such as singing, dancing, poetry and rapping, while being cheered by their friends.
Two additional subjects, Natural Sciences and Social Sciences, were introduced to our grade 5 and 6 learners. They are taught by our coordinator Justine who has a grade per day for three hours, three days a week. The purpose of these classes is to provide the learners with basic knowledge of the subjects and to equip them further for their transition to mainstream schools
.
Other activities on our campuses
Our volunteers hold remedial classes with learners who have difficulty reading, writing and with mathematics. We currently have 5 learners at our Sacred Heart College campus and 8 learners at Holy Family College site who benefit from these additional classes.
The children of our Observatory Girls' Primary School campus who are falling behind also attend remedial classes, on a Saturday.
Our volunteers teach physical education at all our campuses. They teach physical fitness and how to easily perform and enjoy physical activities. The volunteers focus on team building exercises, athletic skills, and muscle strength, and teach our children about the positive benefits of exercise. In addition to this, a
t each campus, all our learners practice judo once a week thanks to our long-term partner Judo for Peace.
On the 8
th
, the learners at Observatory Girls' Primary School attended a yoga class by our volunteers. As the children enjoyed the relaxation, more sessions may be organised to help them deal with stress.
Activities organised by community service volunteers
School community services are projects that students do to serve people, and contribute to and improve their communities. This month, some learners from the main high schools are doing their community services with us. At our Holy Family College campus, learners help four times a week with sport, food distribution, and other activities. At our Sacred Heart College site, the main school students come three times a week to help with physical education classes.
The learners of our Holy Family College campus tried out a new creative activity while waiting for class to start. They created their own jewellery using beads of various colours and shapes. Some made necklaces and others made bracelets. It's always good to spark creativity in the young minds.
On the 25
th
, the grade 4 learners from our Holy Family College campus visited our partner Play Africa at Constitutional Hill. The learners had to identify and share a bit about their favourite places at school - where they have their assembly, play and have lunch - and had to think of ways to improve these places using the design thinking model for children.
This model includes 6 steps: empathise, define, ideate, prototype, test, and share. Learners used these steps to improve their favourite places at school. They discussed the changes they wanted to see, drew them and discussed their drawings with their friends. Later they designed the changes using dough, straw, glue and other materials.
This workshop helped them develop various new skills and a sense of agency towards their own lives, the environment that surrounds them and their communities.
On the 4th of this month, vegetables such as spinach and cabbage were distributed to our grade 2 learners. This was thanks to the hard work of our grade 7 learners who started a vegetable garden last year and maintained it. This harvest helped 50 of our families.
Donations from the Sacred Heart College Community
Towards the end of the month, a group of grade 10 learners kindly donated their excess stationery to our learners. The Matric Dance Committee also donated some snacks to our learners. It feels so good to be surrounded by a loving community that cares about our project and learners.
On the 5th of February, the Marist Youth Movement organised the first alumni day of 2022. This year, the three volunteers we introduced in the previous newsletter, Angel, Timmy and Charmaine, are leading this monthly reunion with other volunteers. The sessions are hosted by Sacred Heart College.
The day began with an introduction and the welcoming of the new alumni, followed by a discussion about the challenges they face at mainstream schools (e.g. with regards to the high number of subjects and the extra-mural activities they have to take part in). Volunteers advised them on coping mechanisms to overcome these challenges.
The volunteers then demonstrated an improvised dramatic skit where they used a hand-sanitizer bottle as a microphone and a trophy. This is known as "multi-purposing props". After this, the past learners had to get into groups and were asked to perform a one-minute skit using the props found in the room.
After a short skit, volunteers taught the group some dramatic techniques such as voice projection, space, and volume. The past learners then watched a movie and shared a lunch before going home.
English classes for our parents
The Turquoise Harmony Institute has resumed English classes with our parents. The programme began last year but it was placed on hold due to covid. Classes take place every Saturday from 09:00 to 12:00 at Sacred Heart College. This programme aims to help our parents as
a big proportion of them are from French speaking countries, and struggle to communicate in English. The course will run for 14 sessions and at the end of the course parents will be awarded with certificates.
Thank you so much to our partner for empowering our parents!
This month, we had the pleasure of welcoming guests from overseas again. Over the last two years, the opportunities to do so had been very limited with the COVID crisis but with the easing of restrictions and the reduction in COVID cases, visits could resume.
On the 24th of February, Johannes Daxbacher from the International Judo Federation, visited our Sacred Heart College campus and held a judo class with the grade 3 learners of our Observatory Girls' Primary School site. The children learnt in a playful way how to dodge an attack from someone, among other exercises. The visit was organised our partner, Judo for Peace, who runs a judo programme on all three campuses.
The following day, the project welcomed three visitors: a representative from the Migrants and Refugees Section of the Vatican as well as a representative from the Southern African Catholic Bishops' Conference (SACBC) and a Scalabrinian sister. Despite the rain, they visited our campuses and the facilities available to our learners, and had a chance to observe our afternoon classes.
My project, my home video
The Three2Six communications team launched the first video of its new project. It aims to share short positive videos on the project and its beneficiaries to help change the general narrative around migration.
More videos will follow in the weeks to come. The upcoming one is called "I have a dream". Make sure to subscribe to one of our social media platforms (see icons at the bottom of this newsletter) to not miss the launch of the new video soon.
Child participation guidelines and training
This month, the Destination Unknown network which the project is a partner of launched guidelines on meaningful child participation for children and young people on the move. The project contributed to the design of this guide by sharing its experience and insight from working with refugee and migrant children for over a decade.
Destination Unknown in partnership with the
Institute for Child Rights and Development
organised a virtual capacity building training on child participation which the project attended with over 20 other participants, including representatives from various Terre des Hommes offices, Caritas and Childline. The aim of the three sessions was to get acquainted with the guidelines, to delve into the principles and tools presented in them and apply them, and to reflect on how to practically use the guidelines in our work.
Enhancing child participation is an objective that the project has been working on, which you will hear more about soon.
Participation in research project
In February, Three2Six was in contact with a student researcher from the University of British Columbia who is writing her graduate thesis on climate migration in Southern Africa.
The title of her research project is Climate Migration and Border Contestation in Southern Africa.
The project was interviewed on the community that it works with, the issues faced by NGOs and migrants themselves, and the solutions or advocacy goals the project has to address the challenges identified. Some questions also touched on how the South African government is dealing with these issues and how Three2Six represents the needs of the community it serves.
The results of the thesis will be shared in the second half of the year.
We have recently launched our January highlight video in which you will find some of our main activities during that month:
https://www.youtube.com/watch?v=N5BoDOhF_u0
. We will release monthly highlight videos of our operations each new month.
In case you have missed it, listen to our project director, Mark Potterton, and one of our teachers, Olutola Adebiyi, who thank you all for your support and send you their best wishes for the year:
Each donation counts and helps us make a valuable change in the lives of our learners