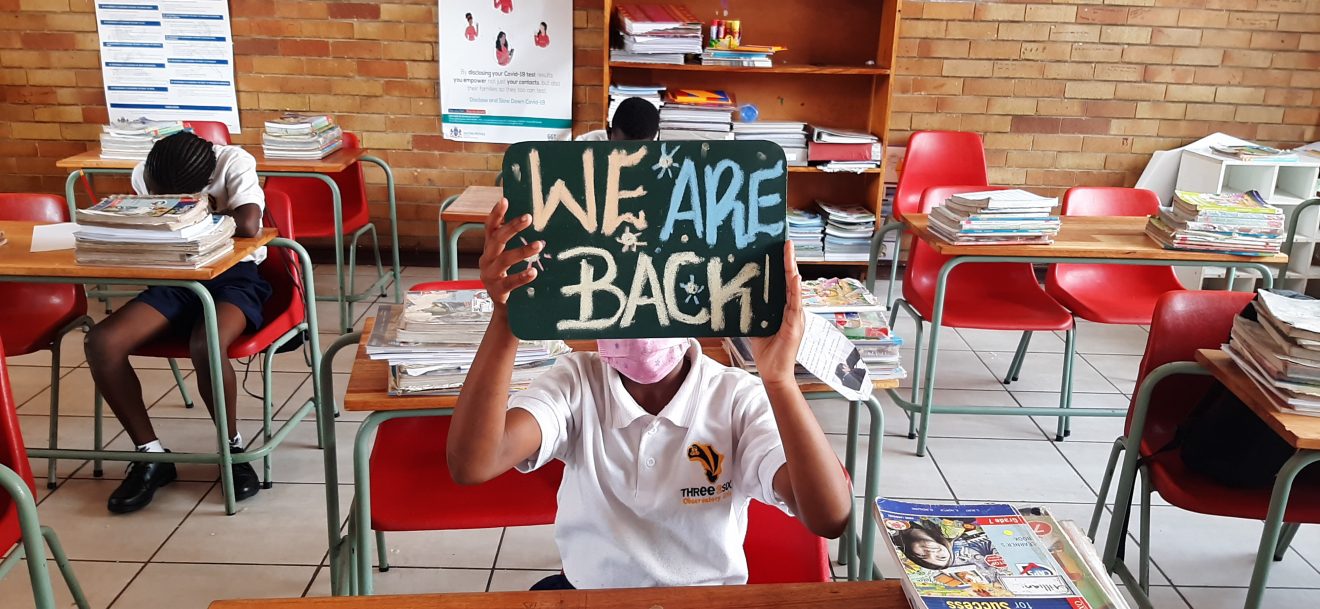 January 2022 newsletter
"If you can dream it, you can do it!" - Mary, grade 6 learner, 12 years old
On the 12th of January, we welcomed all our learners and staff to a new academic year. They were thrilled to be back after the seasonal break.
This year, the project will offer classes from grade 2 to grade 6 to its 225 learners between its three campuses: Sacred Heart College, Holy Family College and Observatory Girls' Primary School. We look forward to supporting them in their learning journey!
To equip the children for the year, we distributed uniforms and stationery to all our campuses like we do at the start of each school year.
Some of our January activities
During a natural science lesson at our Holy Family College campus, the grade 4 learners were introduced to gardening. For this activity, they all had to bring empty plastic bottles to school which were used to start a garden. Volunteers helped the children cut the bottles in half and fill them with soil. Once all the bottle garden beds were ready, we planted seeds and the children watered their garden. We can't wait to watch everything grow!
Last year, our grade 7 learners who have now exited the project were in charge of maintaining the garden we have on our Sacred Heart College campus. On the 17
th
of January, we distributed the remaining harvest of spinach and cabbage to the grade 6 learners who were glad to take them home to their families.
On the 26th, all our Sacred Heart College learners had their first Ipad lessons of the year which were taught by our volunteer Charmaine and during which they learnt how to use an educational game called Kahoot, which focuses on English.
Through the games, they were tested on how much they know about nouns. For the second lesson, the children learnt about coding and used the "Scratch Junior" app to learn how to make their own games. At the end of the lesson, they applied what they had learnt and created their own games.
At our Sacred Heart College campus, we resumed our library activities on the 31rst. The children visited the library to collect books and read them on the field. Our volunteer Charmaine helped learners who struggled with reading and with pronouncing certain words.
We are very proud to announce that four of our 2021 past learners received scholarships to study into mainstream schools. Christnovic who is currently in grade 8 and Exaucee in grade 7 were both awarded a scholarship to study at one of our host schools, Sacred Heart College. Amida, a past grade 7 learner, is now a student of another of our host schools, Holy Family College. And Priscila is a grade 8 boarder at Nizamiye High School.
This wouldn't have been possible if it wasn't for our sponsors. We are grateful to all those who donated generously towards this opportunity for them to further their studies.
''To everyone that made it possible for me to get this scholarship, I am beyond grateful, this scholarship has changed my life.''
~ Amida
On the 27th, Jemi Luzinga, our past learner who is currently also a scholarship student at Sacred Heart College was honoured for his 2021 achievements, during a prize giving ceremony, with 2 blue blazers (the highest academic accolade that the school gives) and 2 academic excellence awards. He also came second among all the grade 11 learners. Jemi is now in grade 12, preparing to matriculate this year, and has just been elected by his peers as deputy president of the school.
We are very proud to see our past learners doing so well at school. Best wishes to all of them for this new year.
Donations received this month
Elena - a Sacred Heart College parent - donated clothes to the project which were distributed to four of our most in need girls. Thank you so much to her for the donation, and to our Sacred Heart College community for always supporting our children and their families!
This month, we were also very grateful for the donations received from
Norwood Orange Grove Houghton Community Activist Network (
NOAH CAN). This organisation that recently supported the project with food donated 100 stationery packs to our children.
They were handed out to our Sacred Heart College students and some to our Holy Family College students.
In loving memory of Joseph
During the festive season last year, we lost one of our drivers, Joseph Chilambo. He had been supporting the project since 2012. Joseph first worked for Three2Six at our Sacred Heart College campus and later at our Holy Family College site.
On the 28th, we organised a service in his honour at Holy Family College, that some parents, his family members and the Holy Family community attended. The service was emotional for everyone.
Our children will always remember him as Uncle Joseph and his contribution will never be forgotten. We pray that God takes care of the family he leaves behind. May his soul Rest in Peace.
As announced towards the end of last year, we have launched a poetry booklet. It is a compilation of drawings done by our children and of poems written by them around the theme "being a refugee". We encourage you to read them to get an insight into their lives.
The stories that are told through these poems are an honest depiction of the lives of refugee children and of the issues they face in their host countries, from difficulties accessing their basic rights to difficulties integrating in their "new home". Here is the link to the booklet:
We have also been working on our 2021 annual report which will come out in a few weeks' time. Stay tuned!
​​

Since the impact of the pandemic, there has been a lot of support for social services and very less available contributions towards the educational and environmental causes.




In 2021, the project has continued and successfully provided a bridging education to 225 learners who would otherwise be left without assistance and out of school. The families were also provided with additional food supplies, as many of them lost their income or job opportunities, to better their livelihood.
For this to be possible, the project would like to thank all its partners, donors and friends who keep ensuring that the objectives can be achieved through access to funding and financial support, and that all children are provided with a safe and holistic learning environment as it is their right.
Private Dutch donor

Misean Cara

Misereor

Terre des Hommes

Investec Private Wealth

Caring Women's Forum

The Breadsticks Foundation

Mary Oppenheimer and Daughters

Johannesburg Stock Exchange

HCI Foundation

Maitri Trust
The budget for the 2022 Financial year is R7 537 932, 68. Our responsibility is to prioritize the learning outcomes and to ensure that children are protected and provided with learning opportunities.
Through your ongoing support, the project has managed to secure R3 845 644. 00 for 2022. We anticipate covering the shortfall from the prospective partners where applications have been submitted and from your kind donations.
If you have any referrals for the project to submit funding requests, please get in touch. Also, i
f you would like to receive a Tax certificate for your donation, please do email us on
partnerships@three2six.co.za
The effects of the pandemic have also influenced project planning which requires financial support. We would like to thank you all for your generosity towards the project this year in ensuring that we are able to deliver a much-needed intervention in our community.
Fundraiser & Development Officer
This month, Justine who has been working at Three2Six for many years has seen her role expand. She is now the coordinator of two of our three campuses. In addition to coordinating the activities on our Holy Family College campus for the last few years, she is now also responsible for our Sacred Heart College campus. Congratulations to her. We wish her all the best in her extended role.
We also wish to congratulate Randry who, as one of Three2Six's first learners in 2008, has come a long way! After joining the project again in 2020 as a volunteer, he is now an intern teacher at Three2Six whilst he pursues the second year of his teaching degree. He teaches life skills to our grade 6 learners. All the best to him!
This month, we have welcomed 3 new volunteers who have just graduated from Sacred Heart College: Charmaine, Timmy and Angel. They are helping us on our three campuses with our day-to-day activities which include the distribution of food, sports, and ensuring that the COVID protocols are followed. They also help with reading, organising library activities, Ipad lessons, and more.
We are always grateful to have volunteers at the project as they give a lot of themselves to us and bring so much to our children and team. It is a learning experience on both sides. Enjoy your journey as volunteers.
Each donation counts and helps us make a valuable change in the lives of our learners