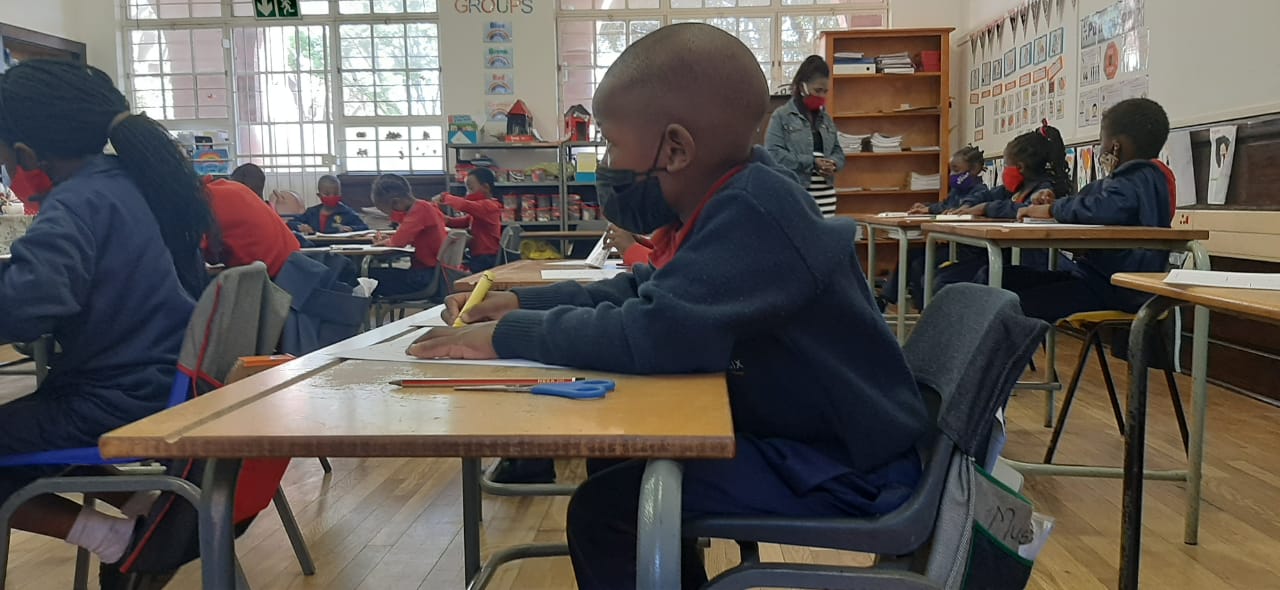 September 2021 newsletter
Happy birthday to our director
On the 30
th
, our project director Mark Potterton celebrated his 60
th
birthday. For the occasion, the learners organised a show. They danced and sang a prayer in his honour. Our director was also very touched to be given a portrait of him made by a Three2Six parent.
We thank him for all that he has been doing for the project and wish him many more great years to come.
This month, our staff were back for a new term!
On the 6th, Sacred Heart College started term 3 with a staff training programme which our teachers joined. The day opened with a mass, before moving to a workshop.
It equipped our teachers with strategies on how to approach the term, how to overcome the challenges they face in their work, how to meet their targets in education, and how to effectively evaluate learners. This staff training day was motivational and energising for teachers as they start this new and last term of the year!
On the 14th, we were very excited to have the head of our Holy Family College campus, Franc Sobreira, teach our grade 1 learners an art class. The children learnt about the life cycle of a butterfly. They had fun colouring in drawings of a butterfly and used different shapes to make a caterpillar. Our principal will teach art classes to the children every week of this term.
On the 15th, our grade 7 learners went on an outing and visited two museums at the University of the Witwatersrand. At the Origins Centre Museum, the children learnt about the evolution of our ancestors into human beings.
At the Art Museum, the children saw various exhibitions. They also learnt how art can be used for storytelling and how to try and interpret art.
On the 22nd, Study Fit conducted a 2-day programme for our grade 7 learners
. The children were taught various useful studying techniques that they can apply at school and at home.
It was an important programme as they all learn in different ways and require ways of learning and studying that are adapted to them and to their needs. For example, we have visual learners who memorise well by looking at information, and auditory learners who retain information through speaking and hearing, while kinesthetics learners like to learn new material in a hands-on way.
Celebrations on our campuses
South Africa is referred to as "The rainbow nation" with 11 official languages. The 24th of September is a public holiday in South Africa known as Heritage day. On this day we celebrate the diverse cultures, languages, ethnic groups, food and people in South Africa. In
all our campuses the children proudly wore their traditional clothes to celebrate this special day. During assembly, they shared with their peers some interesting facts about their culture, and learnt to value and understand their culture and the culture of others.
World Day of Migrants and Refugees
The 107th World Day of Migrants and Refugees was celebrated by the Church on the 26
th of September
, with the theme "to an ever wider WE". This day helps raise awareness on the challenges faced by refugees and migrants, as well as on the skills and talents they bring to their host countries. We celebrated this day in all our campuses through a mass and an assembly to educate our learners on what it means to be a refugee. Each year on this day we also re-enforce the message to them that there is hope and opportunities for refugees, and that they can make positive contributions to the South African society.
On the 11
th
, we had another exciting alumni day with our past learners, which was hosted by Marist youth at Sacred Heart College. For this month's edition we invited Sarah, an education psychologist from the University of the Witwatersrand, who conducted a workshop around integrating safe spaces for migrant learners in the school environment. Sarah and our alumni had a discussion on the impact of safe spaces on the psychological wellbeing of learners. After lunch the alumni played building and racing games with hula hoops. We always strive to gather our past learners and give them tools to empower themselves. The alumni day is one way to do so!
Research project done at Three2Six
Sarah, a PhD candidate at the University of the Witwatersrand, visited us in July to conduct research on equitable access to education for undocumented migrant children in South Africa. She first joined our day-to-day activities for the children to get to know her.
For her data collection, Sarah interviewed staff members at the project, and officials from the Department of Education among other stakeholders. She also conducted interviews with some of our parents to gather evidence on their experiences as foreigners in the country, and organised discussion group sessions with some of our children. The discussion groups focused on how happy the children are about being able to attend school in South Africa.
When she rounds off her data collection, Sarah will use a framework known as the Capability Approach to develop an approach that can be considered to ensure that all children, regardless of their legal status, can equitably access education.
She rightly notes that "the Capability Approach as a framework affords us a chance for equity within South Africa.
We are able to participate in processes through our agencies and in the end, bring about tangible change".
We can't wait for the findings!
Advocacy update
Initiatives around our anti-xenophobia resource
At the end of the month, our partners from Mindburst Workshop organised a workshop with some Sacred Heart College teachers. They were introduced to our "Talking and Thinking about Refugees" (TTR) resource and were advised on how to practically use it in their classrooms with their learners. The teachers were also given physical copies of the toolkit for them to familiarize themselves with its content after the workshop.
During the month, the project also approached Parliament to introduce its model and its anti-xenophobia resource, which Three2Six hopes to engage further with.
Participation in a Migration & Coronavirus in Southern Africa network (MiCoSA) meeting
The event was centered around protection issues that asylum-seekers, refugees and migrants are currently facing in South Africa. Some organisations, including Three2Six, shared with the network their input on these from working on the ground with their beneficiaries. There was a specific focus on the impact of COVID on this group of persons (e.g. loss of income, access to vaccination).
Each donation counts and helps us make a valuable change in the lives of our learners