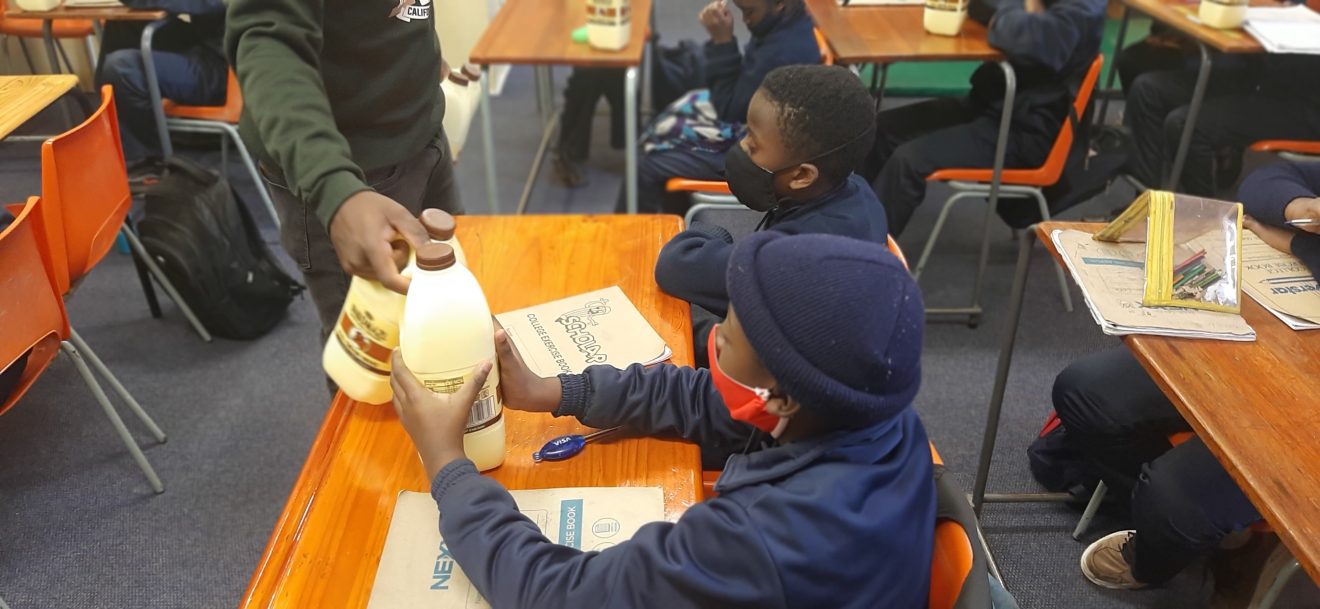 July 2021 newsletter
Closure of our campuses for a month
South Africa recently experienced an increase in the number of its COVID-19 cases as it faces its third wave. As a result, the country moved to alert level 4 of its lockdown which meant that all schools in the country had to close on 28 June 2021 for the foreseeable future. In line with these regulations, the project closed its doors to its learners for a month. This affected our campuses differently as they do not have the same school calendar.
During the closure of schools this month, our Observatory Girls' Primary school campus was on a three-week school holiday as per their calendar, which was extended by a week as the nationwide school closure lasted four weeks. They will catch up on this extra week of holidays in the weeks to come.
As for our Sacred Heart College and Holy Family College campuses, the learners had just returned from a mid-term break when the school closure was announced. The learners at our Holy Family College campus were able to learn online for several weeks using Whatsapp as a learning platform. The Sacred Heart College campus couldn't however resort to online learning as the majority of its learners and families lack resources for online education.
At the end of the month, on 26 July, we were very excited to be able to reopen our campuses as the country moved back to adjusted level 3 allowing on-site learning to resume. Sacred Heart College and Holy Family College held catch up classes and were busy with revision for their exams, while at Observatory Girls' Primary school, our learners were excited to start term 3. The lost teaching time at Sacred Heart College will be caught up on in August, during the campus' usual holiday break.
In June, our partner Play Africa graciously donated several bags of clothes to the project for its families.
When the country moved to level 3 at the end of July, our team was able to start distributing the donations among its families which some parents used to sell to earn extra money to survive during the COVID pandemic.
Thank you so much to Play Africa for the gifts.
On the 29th July, the project received a donation of over 200 bottles of milk. This generous gesture was done by a Sacred Heart College parent. The milk was distributed to all our campuses. This donation comes at a time when our families are particularly vulnerable.
We are so grateful for the Sacred Heart College community's continued and generous support of our project and beneficiaries.
Three2Six operations manual
For the last few months, the team has been working tirelessly to update and complete an operations manual first started in 2018. It will give key information on how the project operates for anyone to have all the necessary tools to start a Three2Six project anywhere in the world.
Follow us in the weeks to come to not miss its launch!
Psychosocial Rights Forum meeting
This month, the psychosocial rights forum held another of its monthly meetings with organisations working with migrants and refugees. Some of the organisations that took part in it included the UNHCR, Kids Haven, and Jesuit Refugee Service.
The participants discussed ethical questions that can arise from working with these beneficiaries, and some introduced the projects and activities they have been working on. Three2Six presented "Talking and Thinking about Refugees", its anti-xenophobia resource for teachers which aims to debunk myths on migration and help educate people on related issues.
If you have any questions on the resource or would like to receive free training on it, please contact us at advocacy@three2six.co.za
This month, the project team joined an online partner dialogue with its long-standing partner Kindermissionswerk - Die Sternsinger.
Three2Six has been collaborating with them for several years by receiving volunteers from the German organisation to assist in its daily activities with the children.
This virtual meeting was an opportunity for the organisation's partners to learn in more details about Kindermissionswerk's volunteer service and the impact of COVID on it, and to discuss the impact of the pandemic on their own operations and volunteer programme.
We hope that the COVID situation will allow us to resume receiving international volunteers soon!
Each donation counts and helps us make a valuable change in the lives of our learners