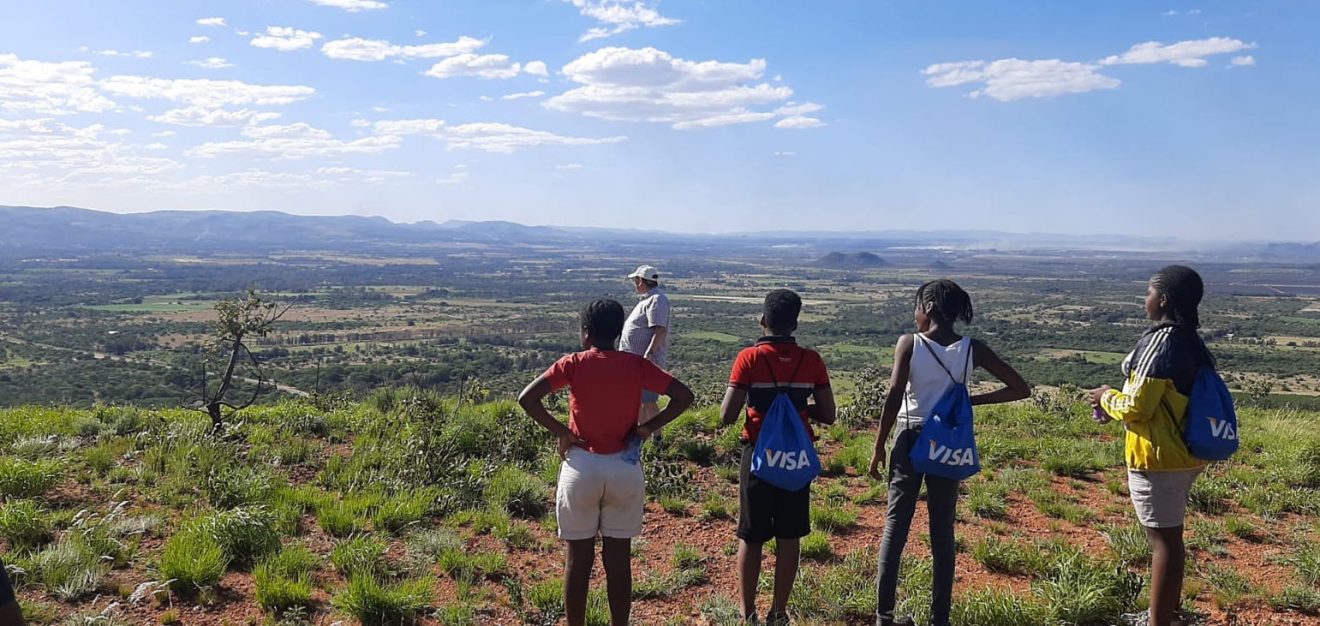 November-December 2021 newsletter
"There is hope in trying" - Gabriella, 13 years old
​​
The three campuses functioned as normal since the last four-week lockdown. Children at Sacred Heart College campus worked an additional three weeks in their holiday to catch up, and the other campuses extended their teaching days.
Our Grade 7 group completed a full year with a full curriculum and most of them have got places in schools for 2022.
Extramural activities and holiday programme
We have run a weekly physical education programme with the help of one of our volunteers on two campuses. Our children on the Holy Family College campus enjoyed soccer training with expert coaches on a weekly basis, and most of our children also benefited from the Judo for Peace project.
The Grade 7 group at the Sacred Heart College campus participated in weekly karate and drama classes, and all the children completed a month-long swimming course as part of their holiday programme.
We ran a camp for 65 children in the Magaliesberg for four groups in November. There was an opportunity for the children to connect with each other, as well as to acquire new skills to work in teams. They were also exposed to some environmental education. The children enjoyed the meals and being outdoors. The outdoor experience was a 'first time event' for most of the children, who have mainly grown up in high-density city spaces.
Children have attended the cinema, the theatre, the science museum and have had other fun-based activities at school as part of their holiday programme.
Support for students to study at Sacred Heart College and at Holy Family College has been received from the Breadsticks Foundation and Mary Oppenheimer and Daughters.
A partnership with the Global Education Movement and the Southern New Hampshire University (USA) supports 20 past refugee students to study for a BA (Hons) programme.
Throughout the year we have been able to support the most destitute children's families with food. In November we received food support from the Jewish Board of Deputies to assist all 225 children's families to the value of around R500 per family.
We are always encouraged by the resilience of our children. Refugee families have been severely impacted by lockdowns and disruption to the economy. Parents have struggled to keep money coming in and to support their families. Yet despite this the children have continued to come to school and learn. While public schools have staggered their teaching days, we have continued with daily schooling and mitigated the impact of COVID-19. The teaching time lost during school shutdown was made up through teaching in the holidays.
We are proud of our teachers and children for continuing to do their best during these difficult times, and we are grateful for the support of our partners this year.
We would like to thank you all very much for the support you have shown our project through those difficult times.
We wish you a happy festive season.
Funday
To close off the year, on the 3rd of December, our Holy Family College and Observatory Girls' Primary School campuses organized a fun day for the children. It began with a talk on the importance of water and how to save water at school and at home.
Straight after the talk, the games began, there were six game stations with different games at each. The games included a blindfold challenge, volleyball, jumping castle and water slides. After having fun, the learners were given their report cards and said their goodbyes to their friends and teachers before leaving for the summer holidays! A special thanks to Lizette Cressey for visiting us and taking beautiful pictures of our activities.
Workshops with our children
Towards the end of November, our grade 7 learners attended a workshop organized by the Outreach foundation around human rights. The children learnt that human rights ar
e not optional. For an exercise, they had to write a list of rights that are, according to them, generally abused or neglected. The issues raised through this exercise were mostly around documentation and physical abuse, which they were advised on by the lawyers and social workers present at the event.
At our Sacred Heart College campus, a workshop was organised with the school counsellor. Our grade 6 and 7 learners learnt more about gender, sexuality and HIV.
School project with Three2Six learners
Two learners from one of our host schools, Sacred Heart College, worked with our grade 7
learners as a part of their school project
. One of them donated sanitary pads to the grade 7 girls and the other pupil organized games with our children.
In November, the project received another round of donations from its partner Save the Children. All our campuses and children received several masks each and pocket hand sanitisers to carry with them to always stay safe.
15 more of our most vulnerable families were given food vouchers by Save the Children to support them for two months. We are very grateful for their continued support!
Global Action Month celebrations
Like every year, we celebrated "Global Action Month" in November, an initiative by the children and youth of the Terre des Hommes' international youth network. The aim is to carry out public actions to demand the realization of their rights.
This year, our grade 7s at Sacred Heart College cleared out the campus' veggie garden and all the other grades went around the playgrounds and picked up litter.
The grade 3s of our Holy Family College site learnt about pollution and how to maintain a healthy environment, and made posters on these topics, while the grade 2s created slogans such as "stop littering, reuse and recycle items" to raise awareness on how to preserve our environment.
On our Observatory Girls' Primary School campus, the activities organised were around living and nonliving things that can be found in the environment.
Our two grades went around the school to identify these and picked up leaves, sticks and grass that they used to make environmental prints. They also shared with their peers how they take care of the environment.
On camp, our learners enjoyed similar activities around living/nonliving things, and made environmental art.
Last alumni day of the year
On the 27th of November, the Marist Youth Movement organized the last alumni day of the year. We began with unpacking some intriguing poems. We helped the children understand that various elements are common to all poems (e.g. rhyme and rhythm), and that it is up to the reader to work out what the poet is attempting to do with each element.
Afterwards we played Jenga, Checkers, and other fun games. After lunch the alumni group watched a film called ''Shang-Chi and The Legend of the Ten Rings'' before saying goodbye. Thanks so much to our volunteers who were behind all the sessions organised this year. You are the best. See you all next year!
Save the Children skills development programme
In November, a small group of Three2Six alumni had the opportunity to attend the first two sessions of a 16-hour training by Save the Children on life skills that will prepare them for their transition into adulthood. They have learnt about resilience, self-awareness, respect, and other critical life skills.
The second part of the training will be facilitated by Hand in Hand and focus on economic empowerment. We will tell you more soon.
A workshop for our parents
On the 17th of November, despite the rain, a team from Lawyers for Human Rights organised another documentation workshop for 30 of our parents of our Observatory Girls' Primary School and Holy Family College campuses.
After having touched on topics such as the asylum process, citizenship and birth registration, the team sat down with our parents and attended to them on a one-on-one basis to answer the questions they had. Thank you so much to them for their time and for counseling our parents.
In the news
In November we were featured by Africanews, a news media service whose sister channel is Euronews. The report mentions the difficulties that migrants and refugees face in South Africa when trying to access mainstream schooling in the country, and how Three2Six bridges this gap.
Advocacy update - projects launching soon
A few months ago, we were mentioning the beautiful poems that some of our children wrote about being a refugee. Since then, we have created a booklet around them and have collected drawings from the children that we used as illustrations. We can't wait to share this with you in a few days!
Over the last few months, we have also been shooting footage with the children to share their voices in short and inspirational videos. The first two clips "My project, my home" and "I have a dream" will be launched on our social media platforms early next year. Stay tuned!
And another project… We have also been busy working
on a video to promote the use of our toolkit "Talking and Thinking about Refugees". It will incorporate basic information on the resource, footage of our project activities and pictures of the book. The video will be shared next year.
2021 has been a fulfilling year for the project.
Despite the efforts to set up a supportive remote learning experience, evidence is emerging to show that school closures have resulted in actual learning losses for many schools but not many losses were recorded for the project as the learners only have a few subjects in their curriculum.
The project has also identified that online intervention is not effective for the beneficiaries of the project who already have various difficulties in grasping the concepts in the classrooms. The biggest challenge was that learners also did not have the relevant resources such as laptops, pads and data in their homes to be educated online. The learners who had the most difficulties were those whose parents had less education and couldn't assist with their educational tasks at home.
Throughout the lockdown we offered food support to the families who had a loss of income as a result of the harsh conditions imposed by the pandemic, and during those lockdown months channeled R540 000 worth of food support. The support systems set out by the government did not benefit the refugee and migrant communities but further deepened the unequal treatment and lack of access to resources.
The lockdown containment measures worsened their conditions as they found themselves suddenly jobless, being evicted from their homes, hunger insecure, and trapped in dormitories or camps where adequate physical distancing is impossible, the project had to intervene and redirect the funds for the on-campus food program to the family needs.
Some students who can access mainstream schooling and are enthusiastic about engaging with the regular academic and social practices within classrooms and schools, face some problems related to language and literacy based on curriculum content.
Refugee learners have many additional disadvantages interacting at school, and the ability to navigate an unfamiliar educational system is one of them. In addition, the low-cost public schools are unable to offer adequate academic support as they are under-resourced and have large classes where personalised learning cannot be prioritised.
The communities that the students come from, are also unable to cater for their educational and emotional needs due to financial strain from lack of employment, unstable infrastructure and other family dynamics and responsibilities which do not allow the students enough time to focus on their academics. We would like to thank two of our partners, The Breadsticks Foundation and Mary Oppenheimer and Daughters foundation for making funds available for our scholarship program for learners to transition into mainstream schools.
The Breadsticks Foundation have committed to providing a scholarship to one Three2Six learner into Sacred Heart College every year from 2021-2026. We are very grateful for their support.
Mary Oppenheimer and Daughters Foundation and the trustees of the Jell Foundation has also provided a discretionary award to a high school scholarship for one Three2Six learner into Sacred Heart College for the period 2022 to 2027 (Grade 7-12).
The project would like to thank all of our partners, donors and friends who keep ensuring that the objectives can be achieved through access to funding and financial support and making such a valid contribution in our community.
Private Dutch donor

Misean Cara

Misereor

Terre des Hommes

Investec Private wealth

Caring Women's Forum

The Breadsticks Foundation

Mary Oppenheimer and Daughters

Johannesburg Stock Exchange

HCI foundation

Maitri Trust
The budget for the 2022 Financial year is R7 277 932, 68.
Through the support of all our existing partners, the project has managed to secure R3 845 6441.00 for 2022. We anticipate covering the shortfall from the prospective partners where applications have been submitted and other donations. If you have any referrals for the project to submit a funding request, please get in touch. If you would like to receive a Tax certificate for your donation, please do email us on
partnerships@three2six.co.za
The COVID pandemic has worsened the dependency on the project and as a result of the needs arising from poverty, lack of proper sanitation, lack of employment and opportunities. This has resulted in the project creating other means to provide additional support to the children's homes, not just when the learners are at school.
The effects of the pandemic have also influenced project planning which requires financial support. We would like to thank you all for your generosity and towards the project this year and the years to come.
Fundraiser & Development Officer
Esther has been at the project since 2009. She first joined us as a teacher before becoming the coordinator of our Sacred Heart College campus in 2011, a role that she has been occupying since. As such, she has supported and empowered hundreds of our children and families, even after they had left the project.
She has always deeply cared about everyone and always dedicated her time to ensuring that all "her children" were looked after. Esther has made an invaluable and lasting contribution to the project and to our beneficiaries. She will now take up a very well-deserved retirement but will remain involved in the project in the year to come doing part-time teaching. We cannot thank her enough for all that she has accomplished over the last 12 years, and for her dedication to the project and to our families. It's only a goodbye!
In November, we had the pleasure to welcome back to the project one of our former volunteers, Honi. She was with us for over a year between 2018 and 2019 as a full-time volunteer. Now that she is back in South Africa, she decided to spend a few hours a week at the project to help where there is a need and with our library programme. Welcome back Honi!
We are sad to have to say goodbye to our local volunteer Bulelani who joined us at the beginning of the year. He made sure that our children kept fit throughout the year with his sports sessions that the learners always enjoyed. All the best to him!
We would like to congratulate
our Board member Nicole Fritz on her appointment as new Executive Director of the Helen Suzman Foundation (HSF), after more than 6 years as the Executive Director of Freedom Under Law (FUL). We wish her all the best in her new position.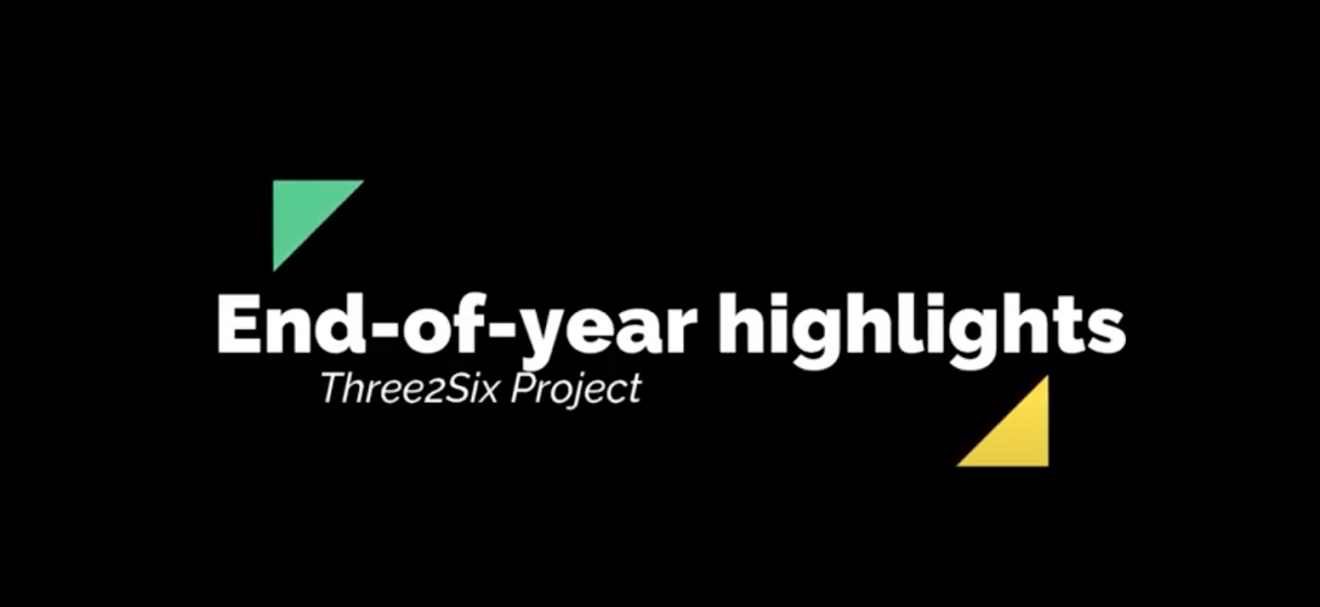 A very happy festive season to all from the Three2Six team!
Each donation counts and helps us make a valuable change in the lives of our learners