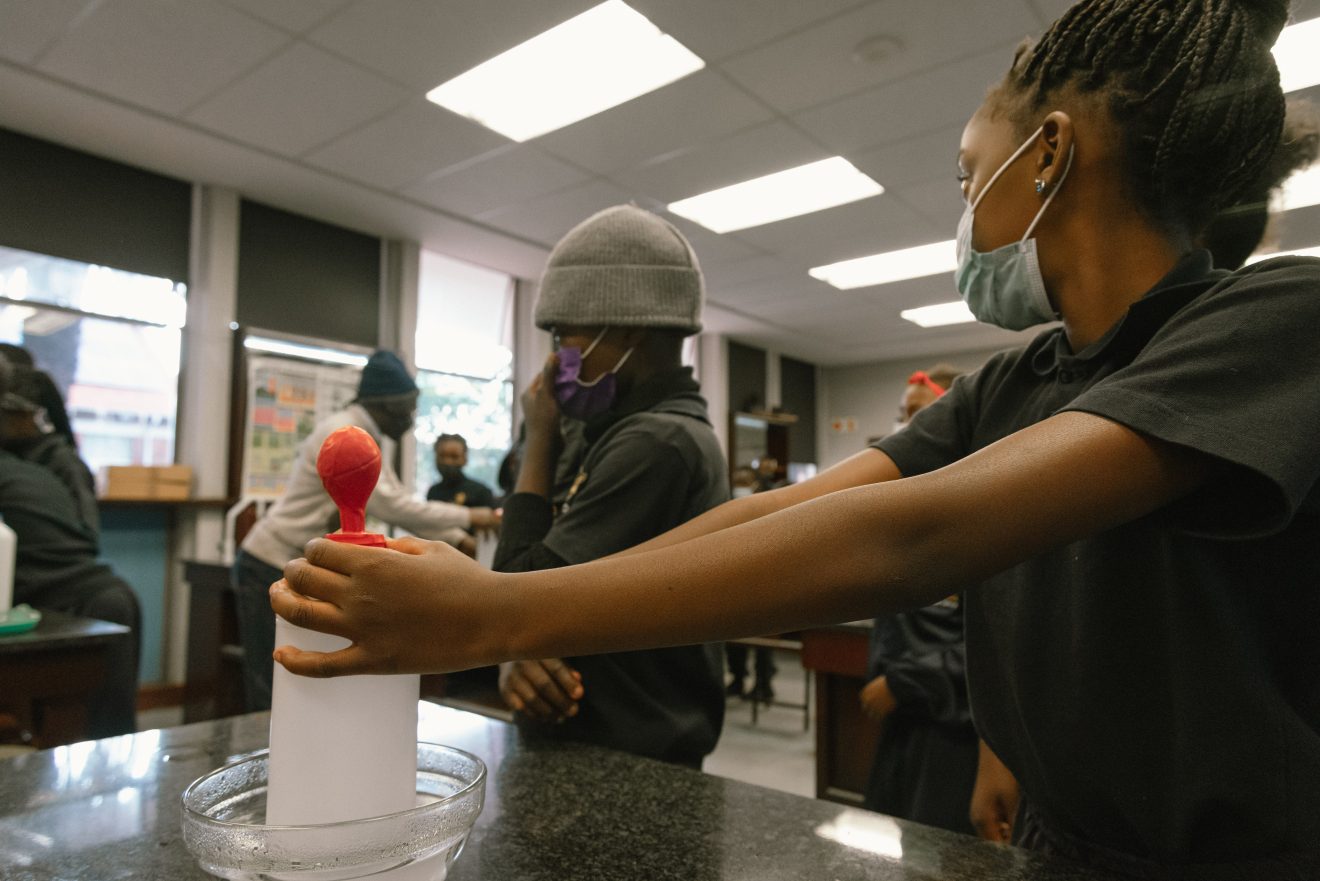 Credit to Iekraam Adams. Thanks to Play Africa and Goethe Institute
October 2021 newsletter
"Life is like a story, tell it like you live it." - Mercy, 11 years old
The month of October started with a celebration, the founding of Sacred Heart College. For this occasion, our learners joined the mass service organised by the main school's primary school.
Unlike last year, we were able to all get together for this special event that we celebrate with the main school every year.
In the news
On the 4th, GroundUp - a South African news agency that publishes issues that focus on public interest - released an article on our project. It looks at how we support refugee and migrant children who must sometimes wait years before being able to access the mainstream schooling system in the country.
Some of our alumni, staff members and current learners were interviewed and shared their stories.
We hope that through this article many will get an insight into the struggles of refugees when trying to access state schooling in the country, and a better understanding of the support we provide them until their transition.
Science Film Festival with Play Africa
Play Africa is an interactive children's play and early education museum which promotes creative and innovative learning. In October, they visited all our campuses for their Science Film Festival to promote better health through better understanding.
The learners at our Sacred Heart College campus had a science lesson about salt and ice during which they did various science experiments (e.g. to find out if ice can easily melt in salt). They were amazed by the findings.
With our younger grades, at our Observatory Girls' Primary School campus, the session was around how germs spread. After watching a video on this and discussing it, each learner received a toy covered in glitter, which symbolised dirt. Learners were taught how to wash their hands properly, which was a great reminder especially with COVID.
At our Holy family College campus, the children also learnt about germs, and about dental hygiene. They played a game which taught them which type of food is good for their teeth and which isn't.
Children learn better when it's practical and when it's playful. Play Africa has awakened future scientists among our learners! Thank you for the inspiring activities and the beautiful pictures.
On the 8th, our learners participated in an athletics day at Sacred Heart College with the main school. It was good to see how the learners worked together to win the race. Our cheerleading team was very supportive, which motivated our little athletes to do their best.
Well done to all the teams!
On the 30th of October, we organised another alumni day at Sacred Heart College, during which we hosted exam study sessions as our past learners are gearing up for their end-of-year exams. Sarah, an education psychologist from the University of the Witwatersrand, joined us again and presented exam study tips to the students.
Some of these keys include organising a study space which is comfortable and free of distractions and clutter, and sleeping as it builds memory.
The past learners were also motivated to prepare for exams through study groups as one can gain insights from classmates and peers this way. Sarah also mentioned the importance of taking breaks when studying. "A little exercise is better than none", said Sarah.
For our second session, the alumni were guided by our volunteers on how to use Khan Academy and YouTube on IPads, for revision of their various subjects. Khan Academy is an educational website that aims to let students and anyone learn almost anything for free, and YouTube provides educational videos to prepare for exams. To end off the day, the alumni had a delicious meal.
All the best for their exams!
Information-sharing sessions for our parents
On the 12th of October, the United Nations High Commissioner for Refugees (UNHCR) and Lawyers for Human Rights (LHR) visited our Holy Family College campus for a workshop with our parents. The experts held a two-hour long session on documentation to educate our parents on their rights and duties relating to the asylum process, birth registration, citizenship, and other related topics. Our parents learnt a lot from the presentations made and from the interactions they had with the lawyers. Thank you so much to our partners for an empowering session.
On the 23rd of this month, our Observatory Girls' Primary School campus organised a vaccination information day. Our parents attended and had the opportunity to ask the representatives from the Vooma campaign questions pertaining to the vaccine. The information session was very helpful and informative. Vaccination sites were further indicated for the parents to be able to go and get vaccinated. Posters were given to put around the school to raise awareness.
Great news! On the 7th, the project received a donation of over 12 000 masks from Jay Su Trading. Each of our learners received a box of 50 masks. As we are still living through a pandemic, these masks will be very useful to them and their families.
On the 21st, over 100 loaves of bread were donated to our learners by a Sacred Heart College parent who donates to the project regularly. Our learners were very happy to take the bread home.
During the month, some of the Three2Six parents were also given food vouchers from our partner Save the Children South Africa to support them and their families for 3 months.
We are always very grateful for donations as they help us make a difference in the lives of our learners and of their families. The COVID crisis has made them even more vulnerable than before.
Training for our teachers
This month, some of our teachers had a computer literacy training with our IT intern Tony. The aim was to improve their computer skills, enabling them to use computer programmes such as Microsoft Office in their daily work.
During the training, our teachers also had a refresher session on how to use ADAM, a software we use to capture the learners' academic progress and marks. This training will take place on all our campuses.
As previously reported, a few months ago we recorded podcast episodes with our alumni to share their voices in an effort to enhance child participation. We are delighted to announce that the five episodes are now available on our Soundcloud account:
The episodes touch on topics such as the impact of COVID on their lives and on their learning, and what being a refugee means to them. They also reflect on their time at Three2Six and their transition into mainstream schooling after leaving the project. You will also find out about their dreams for the future!
We'd love to know what you think. If you have any comments to share with us, please feel free to reach out to us at advocacy@three2six.co.za
Presentation at The Feast of the Clowns Festival
On the 8th, we joined a workshop called "migrant and church, the courage to reimagine community" organised by Tshwane Leadership Foundation with the South African Catholic Bishops' Conference (SACBC), and the support of the University of Pretoria (UP). Attendants included students from the university and representatives of various religious congregations.
The event aimed at mobilising churches for a compassionate and hands-on response to migration, and exploring ways in which they could be helpful in the integration of migrants. Partner organisations introduced the migration phenomenon and the work accomplished by SACBC in their support to migrants and refugees. Our advocacy officer presented the model of Three2Six as well as its resource for teachers called "Talking and Thinking about Refugees" (
https://three2six.co.za/talking-and-thinking-about-refugees/
). Various copies of the toolkit were distributed to the participants.
Each donation counts and helps us make a valuable change in the lives of our learners