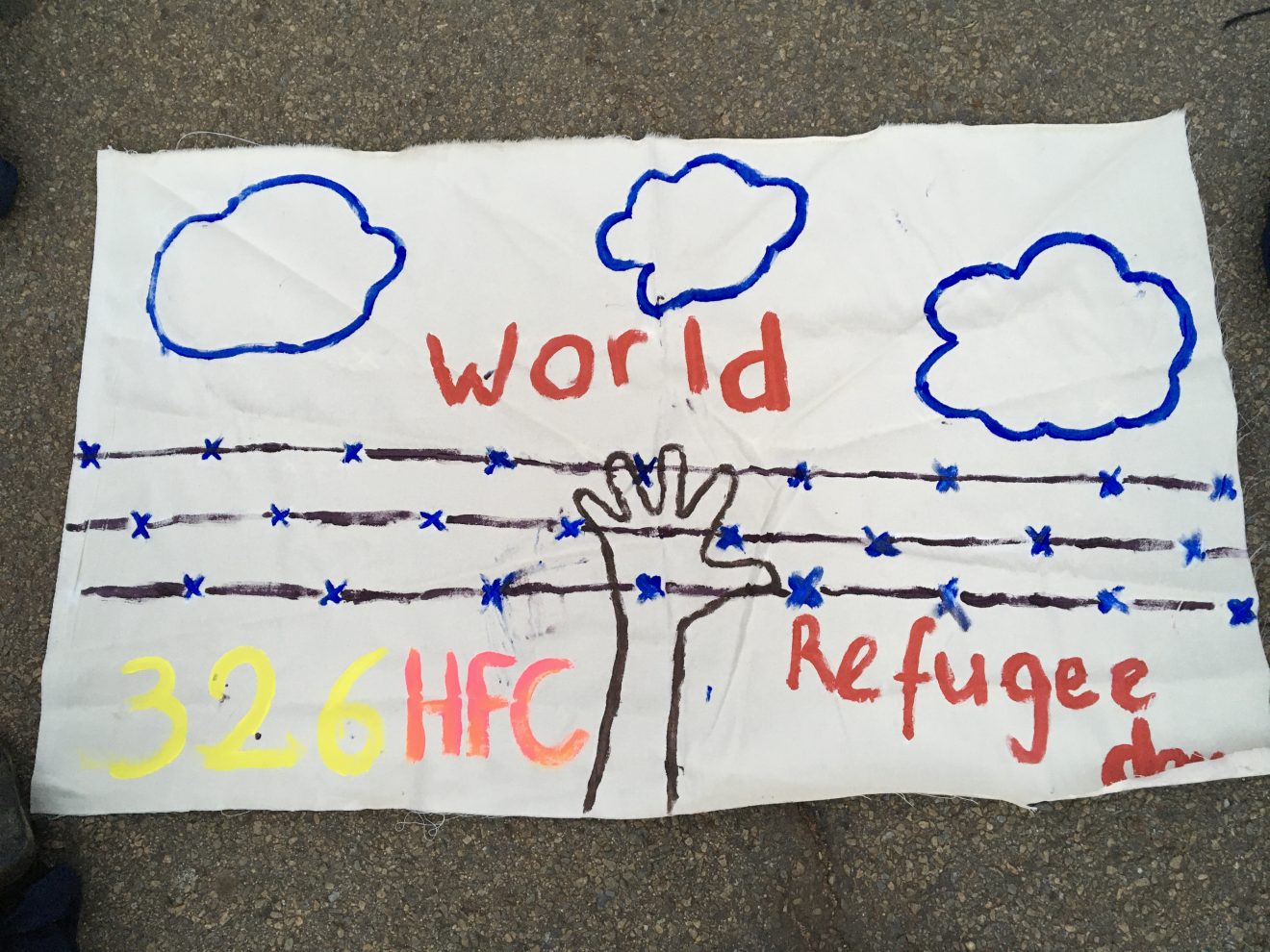 June 2021 newsletter
2020 annual report release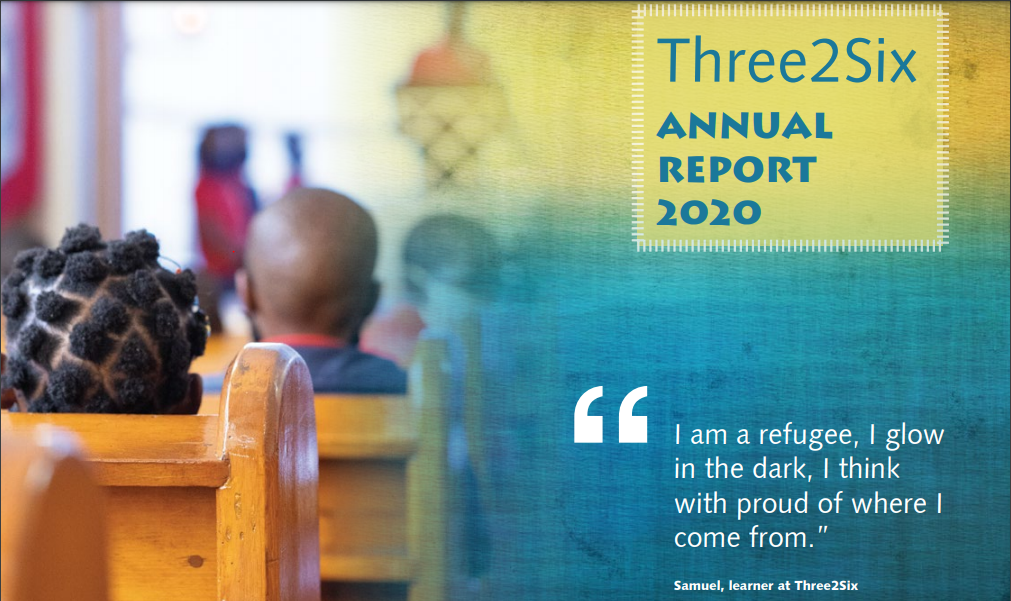 This month, we were proud to launch our 2020 annual report. It covers the activities that were carried out during one of the most difficult years so far which was marked by the pandemic that affected us all. 2020 required that we adapted our operations and support to our beneficiaries to address their immediate needs which arose from the pandemic.
This report is a testimony to the dedication of our team who continued to support our children and their families through challenging times for all. Well done to them!
The report is available on our website:
World Refugee Day celebrations
On our Holy Family College campus, all our grades (grade 1 to grade 3) celebrated World Refugee Day at the end of this month. It is celebrated annually on the 20th of June. The teachers facilitated discussions with our learners about being a refugee, the memories that they have from their home countries and their lives in a foreign country.
What came from these discussions was written down by the children on cards that they made. Our teachers selected parts of these powerful testimonies and turned them into one statement:
"Home was a refuge for me. And I wish they would see it because after cruelly taking it from me now I am called a refugee. I wish I could return one day. Thanks to Three2Six for taking us as their own and making me feel at home. Three2Six is my new home."
Champagnat day
On the 4th of June, we celebrated Champagnat day with one of our host schools, Sacred Heart College, which is a Marist school.
Champagnat Day is an important celebration each year.
It is a celebration of the feast day of the founder of the Marist Brothers, St Marcellin Champagnat. It symbolises the Marist Spirit of giving. Due to COVID, the day started with an online mass which learners watched in their respective classrooms. We were very pleased to have one of our grade 7 learners participate in the mass by saying a prayer in French.
Representatives from each class, from both the main school and Three2Six, did a bridging activity, which aimed at finding connections between diverse groups. The children were reminded
that they must work towards building peace, unity and love among their communities, which they drew the symbols of that they strung on ropes to build bridges.
Fun activities were also organized in the classrooms, some classes played games, some danced and others did drawings. The final activity of the day was a walk/run. Our learners walked 4kms and ran 6 laps around the Orchard.
This was the first-ever Marist virtual run, which united all Marist schools of the country.
Scarf donation
67 Blankets for Nelson Mandela Day,
initially aiming to distribute hand-knitted scarves to the needy,
provided Sacred Heart College with wool to make scarves for people in need.
Sacred Heart College then took on a challenge to start clacking the needles and made over 200 scarves that were given to all Three2Six campuses this month.
The whole Sacred Heart College community consisting of parents, teachers, learners and staff workers got together and took this incredibly generous initiative for our learners.
The children were very excited to receive the scarves, and sang a thank you song for the donors saying: "Thank you for the scarves and for the wool, you are so special!"
A very big thanks to 67 blankets for Nelson Mandela Day and the Sacred Heart College community for keeping our learners warm in the cold winter months and for spreading love through the colourful scarves.
On Saturday 5 June, our teaching staff all gathered at our campus Holy Family College, to attend a training session by Aneene Dawber, a speech and language therapist. The session addressed some of the weaknesses she identified during the reading assessments she held on our campuses a few weeks ago.
The teachers were given tools to support their learners' sounding out, comprehension and vocabulary. We then applied some of these tools in group work exercises.
Luke Lamprecht, a child protection specialist, then walked our teachers and support staff through the South African child safeguarding legislation framework and explained critical points in relation to this. He also shared with the group his knowledge on child protection from numerous years of experience working with them. All that was studied during this 2-hour workshop was applied through a case study.
On the 19th of June, The Marist Youth Movement organised another alumni day at Sacred Heart College. The theme of this month's gathering was World Refugee Day, which is globally celebrated the next day, on the 20th of June.
The day embarked with a personal development session, facilitated by the school's director of ethos and pastoral care. Pam led the learners in a peaceful meditation by playing gentle reflective music in the background just before they sang along.
The second part of the session was a presentation on being Marist and a profound conversation on who is a Marist and how to lead a Marist lifestyle.
Afterwards, the day transitioned towards podcast and craft activities. Read more about the podcast session below (see the advocacy section). While the podcast was being recorded with some learners, the rest of the group did a craft session, whereby we celebrated the diversity of Africa and designed beautiful flags of African nations to celebrate where most of the Three2six past learners come from.
On the day, a "Walls Are Broken" initiative was launched by one of our alumni. This initiative's name is a metaphor for breaking barriers such as the lack of affordability, which prevent most children and youth on the move from accessing education. Through collaboration with funders and the wider community, it aims to create access and to integrate young people on the move into schools and tertiary institutions.
To end off this special day, the alumni were given gift hampers, sponsored by the Walls Are Broken initiative, and a delicious meal before they were safely transported back home.
We are excited for the next reunion!
World Environment Day activities
On the 4th of June, in anticipation of
World Environment Day
, the children of our Observatory Girls' Primary School campus
were taught about the environment and the importance of looking after it to reduce our footprint. They learnt songs around this theme. They were also taught about what plants produce and how to take care of them. This session involved the watering of the trees that they planted last year during the December holiday programme and of other plants on the campus.
We finished the celebration by making drawings of what the environment represents to them.
Our library
Our library programme plays an important role in the development of our children's language skills. It supports their academic and personal development, and develops among our learners the important habit of reading.
All our campuses have libraries but the pandemic has impacted this programme. However, at our Sacred Heart College campus the library activities have now resumed.
Every Thursday, learners visit the library to collect reading books that they will exchange against others the following week. Our volunteer Bulelani guides them through the selection process. Given the current COVID protocols, we can only accommodate 7 learners at a time.
Staff vaccination
This month, some educators and support staff from the project joined our main schools as they visited medical facilities to be vaccinated. They were given the single-dose Johnson & Johnson (​J&J) vaccine.
The vaccine rollout in South Africa first opened for frontline healthcare workers in February this year. Phase 2 started last month, for essential workers (including educators) and other groups.
On 20 June, for World Refugee Day, the project released a new project video.
For the occasion, we recorded some of our current learners reading testimonies of alumni on their experiences at the project, which are included in the video.
As part of our partnership with Terre des Hommes (TDH), we have recently recorded discussions we had with some of our alumni. The conversations were about their experiences of the COVID pandemic, their time at Three2Six, and what being a refugee and World Refugee Day mean to them.
If the health situation allows, we will hold another recording session with other of our past learners. The finished product will be in the form of podcast episodes that will be available for all to listen to.
Offering trainings on anti-xenophobia resource
We previously mentioned our toolkit called "Talking and Thinking about Refugees" (TTR) which aims to challenge how we think and speak of refugees, and to raise awareness on their plight.
It was designed for teachers but can be used by NGOs and other structures. It comprises lesson plans (from intermediate phase to FET phase) that can be adapted according to the context. PDFs of the various sections of the toolkit can be found here
https://three2six.co.za/talking-and-thinking-about-refugees/
.
With its partner Mindburst Workshop, the project has also recently developed a digital version of the resource (
https://www.three2six.co.za/ttr/navigation.html
). Anyone can access this version as it is viewable offline. It includes short clips of our teachers introducing the sections of the toolkit to make it easier to understand and to use.
We are currently offering free online training on the resource as well as physical copies of it, in an effort to help change mindsets around migration. If you would like to benefit from it or if you can help us spread the resource, please do not hesitate to contact Charlotte on advocacy@three2six.co.za
Each donation counts and helps us make a valuable change in the lives of our learners